---
The house at Bath Street, Abbotsford
Their daughter Amy (Mrs S E Frederick) lived at Hampton Street, Hampton and was still living here in 1932. Hampton is one of Melbourne's popular bay-side suburbs. Edwin and Mary moved from their Abbotsford home around 1910 and at the time of Edwin's death in 1918 were living near their daughter at "Questa" Hampton Street. Their builder son Frederick William and his wife Mary Marie, were also close by at Orlando Street, Hampton.
---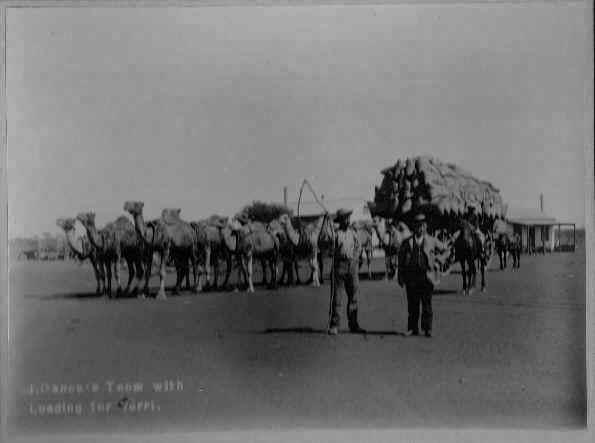 The photo shows one of Ted Dance's camel teams
This is Jane Anderson McKenzie who married Ted. I inherited the brooch she is wearing at her throat. (photo on left) The catch was broken but I kept it for years without knowing where it came from. It wasn't until I did these photos that I realised whose it was. I had the catch fixed and I wear it with a safety chain. It is silver marked souvenir and very nicely engraved. Fay
"