My apologies for repeating some items already shown on my other web pages. It was unavoidable because of the Australian links. TB
Ted Dance's sister Florence's Newport family at the time of her daughter Florence Elizabeth Griffiths's wedding to ironworker Ben Sefton at Maindee parish church in 1918. Florence (born 1865) is seated and the married couple are in the centre. At the back left to right, Norah, William, George's girl friend Winifred, George and Maggie. Front - Gladys, Florence, Albert and Edna.
Florence Dance was born in 1866 at Redbrook in the Forest of Dean, Gloucestershire. Her father was stonemason John Dance (1838) and her brother was John Edward (Ted) (1864) also born at Redbrook who migrated to the gold-fields of Australia in the 1880s.

This photo shows her (left), Ted on the right, her father John with young half-brother George Hamilton Dance at their Scowles, near Coleford home in the early 1880s. The older lady is believed to be Rosa Williams who was John's housekeeper and carer for the youngster when his father was away.
Edward's Dance's son John the stone mason from Scowles, Coleford 1838 - 1922. He was a bit of a long distance traveller making at least three trips abroad, America in the 1870s, Brazil in the 1880s and finally Western Australia.

He was very unlucky with his marriages, losing three wives between 1861 and 1879.

His first wife Zipporah Webb who was born at Cheltenham in 1839 married John in 1861 but died soon after childbirth the same year. Their daughter Annie only lived 5 weeks and Zipporah died less than 2 months later.

This photo was taken at Abertillery, Monmouthshire around 1901 where he was staying with his niece. He was there when his daughter Florence's 42 year old husband James Griffiths died of pneumonia at 3 Albert Avenue, Newport and was the informant for the 13th of June 1901 death certificate.

Florence was 6 months pregnant at the time and gave birth to Maggie May Griffiths on the 6th of September.
This photo shows the Newland headstone of his first wife Zipporah who died in 1861. Florence and Ted's mother was his second wife Sarah Evans who was born at Newland, Forest of Dean in 1843. She married the widower in 1863 and moved to Redbrook where John Edward (Ted) was born in 1864 and Florence in 1866. Sarah gave birth to William Henry in July 1868 but sadly the infant only lived for 7 months. Sarah herself dying the same year.

The headstone inscription also includes his parents Edward and Mary Ann who both died in the village of Newland. Zipporah's infant baby Annie was buried at the foot of the grave.

Fay Widdicombe relates that John, who moved to Western Australia around 1910 to join his son Ted's family at Yarri, carried this faded photo of the headstone in his wallet until he died there in 1922.

His third marriage, believed by family members to have been in America was to Margaret Hamilton (1842-1879) who gave birth to George at the village of Scowles, a couple of miles from Redbrook in 1878. They had another child there, Catherine in 1879, but both mother and infant died that year and were buried at Coleford.
The photo on the left shows the young Florence Dance (standing) when she was a domestic servant living in Bristol. For some of her time there she stayed with her father's sister Mary Hodges.

The other is of her brother John Edward (Ted) before he left the Forest of Dean for the gold-fields of Australia.
| | | |
| --- | --- | --- |
| | Florence Dance married Newport born James Griffiths (1859) in 1890. They had six children all born at 3 Albert Avenue, Christchurch, Newport.. John Edward (Jack) 1891, Florence Elizabeth (1893), James Harold (1894), George Reginald (1896), William Henry (1898), and Maggie May (1901). James Griffiths died from pneumonia in 1901. We know that Florence's father, John Dance was close by and living with his niece's family at Abertillery and the informant on James's death certificate. | |
| | | |
35 year old Florence Griffiths and her family six months after the death of her 42 year old husband James in 1901. She was 6 months pregnant with young Maggie at the time of his funeral.

The family at Albert Avenue, Christchurch around the time of her marriage to Albert Hide Preedy in 1905. Of her four sons pictured here only one, Will, would remain in England. John and George went to Australia and James Harold died when only 12 years old.
| | | |
| --- | --- | --- |
| | Florence remarried at Newport Registry Office in 1905. He was bachelor Albert Hide Preedy, born at Neath, Glamorganshire in 1859 and whose trade, according to their marriage certificate, was a groom (domestic) the same as his father William Preedy. Florence and Albert went on to have three daughters, Norah Evelyn (1908), Gladys Ellen (1909), and Edna (1910). | |
| | | |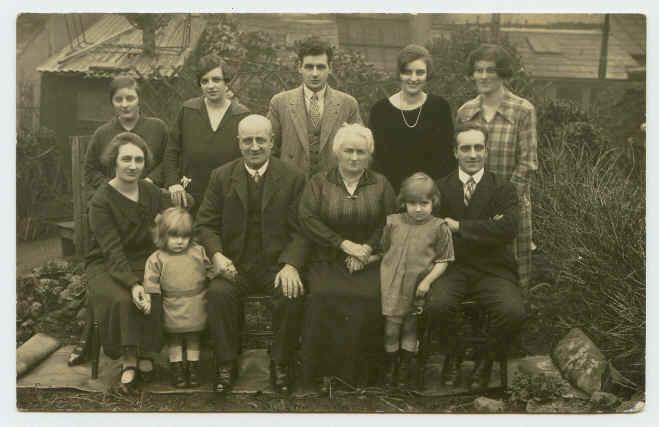 | | | | | |
| --- | --- | --- | --- | --- |
| | | This 1926-27 photo shows the Preedy girls grown up and Floss Sefton's daughters Cynthia and Phyllis. | | |
| | | | | |
Albert Avenue, Maindee. Their first home was at number 3, two doors up from the Royal Albert. Florence was living at number 83 (the third picture) when she died in 1955.
Ben and Flo Sefton had three children. Cynthia who was to marry Philip Pring was born in 1922. Phyllis (1924) married Kenneth Hewson and John Sefton (1934) married Elaine Cutts.

Royal Oak Baby Show around 1922. It has a X and says "our baby got third prize." That would be Floss Sefton's first - Cynthia. Fay
Photo was taken in 1916. Back row Floss (23) and Maggie (14). Front row. Edna (6) Albert, Norah (8), Florence, Gladys (7)

Young Norah Preedy
Florence aged 72

Ted & Florence in 1926

Ted returned to South Wales and the Forest of Dean for a 7 month holiday in April 1926. On the passenger list he gave his destination as his sister's home at Maindee, Newport. Mike Kohnstamm of Harriett Dance's family, recalls "my mother remembered a time when she lived with her parents at one end of Risca, and her grandparents John Roberts and Eleanor (nee Powell) ran a pub at the other end of the town.
Apparently there was a very great commotion one day, and the reason was that a Ted Dance had come visiting from Australia."
Jack (right) with his grandfather John, and Ted's family at Yarri, Western Australia.

Jack Griffiths son of Florence and James 1891-1918

Jack and sister Floss.

His grave at Bellicourt British Cemetery

Florence Ellenís Eldest son John Edward (Jack) came out to Western Australia and lived with my grandparents and their children for about 5 years. Fay

Jack Griffiths joined the Army in Australia and was killed in action late in the war on 8th October 1918. His military record lists him as being killed at Wiancourt, France, he was 27 years and 3 months old. see Life & Death of an Anzac
His brother George Griffiths (born 1896) also served in World War 1 and we have two of the postcards he sent to his grand-father John Dance. He married Winifred Westacott at Newport in 1920 and they had two children Kenneth in 1921 and Aileen in 1926. They moved to Western Australia, probably around the late 1920s. Fay recalls that he first worked for his cousin Ted Dance at their Kalamunda store near Perth. They settled in Mosman Park, Perth. He and Winifred are both buried at Karrakatta. He was in the grocery business all his life according to Linley his grand daughter who lives in Queensland. He could have been a sales rep. Fay
"With Best wishes and kind regards from your Loving G'son George - Egypt 13/11/1915"

George Griffiths

George with Winifred and baby Kenneth

Florence and Norah

Gladys & Norah Preedy with Floss's daughter Cynthia Sefton

Gladys and Cynthia
A photo of Maggie Griffiths (born 1901) -. She did not marry. When she was a teenager many of her male friends, and her brother Jack, did not survive World War 1, and another photo of Norah with her mother.
A Newport grocery wholesaler's staff outing to Wembley. (Maindee Griffiths family) Florence, Will and Mag marked with a X

From the Wholesale grocers Mag worked for. Staff and families went on an outing to Wembley. George is standing behind Will on one side and Mag and Florence Ellen are in front row. I have no idea when it was taken. Fay